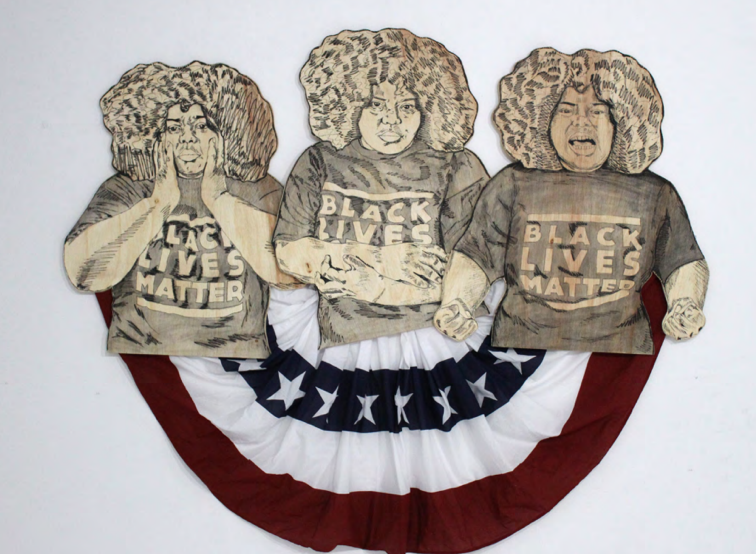 CHANEL THERVIL

She/her

Chanel Thervil is a Haitian American artist and educator that uses varying combinations of abstraction and portraiture to convene communal dialogue around culture, social issues, and existential questions. At the core of her practice lies a desire to empower and inspire tenderness and healing among communities of color through the arts. She holds a Bachelor of Fine Arts in Painting from Pace University and a Master's Degree in Art Education from Massachusetts College of Art and Design. She's been making a splash in Boston via her educational collaborations, public art, and residencies with institutions like The Museum of Fine Arts, The Boston Children's Museum, The DeCordova Museum, The Harvard Ed Portal, and Google. Her work has been featured by PBS Kids, The Boston Globe, The Boston Herald, The Bay State Banner, WBUR's ARTery, WGBH, and Hyperallergic.

Website: www.meltaing.com | www.asiancdc.org/avoyce


Arist Statement
I create artwork that explores the relationship between the multiplicity of individual identity while simultaneously existing as a part of a larger community. Visually I represent this by creating a controlled chaos via the playful juxtaposition of various textures, colors, abstractions and representational forms. Creating art has always been my way of navigating through my feelings and experiences with social and cultural liminality. The collection and creation of a wide range of materials for my end products complement the tension and harmony that comes from the desire to have a voice as an individual while also seeking context in a common narrative. More recently, my practice has been a playground for facilitating conversations with the public as a means of cultivating communal spaces for that kind of inquiry, discourse, and reflection. My training as an educator is a rich subtext of my practice, most visible in the warm interactive and placemaking components that engage viewers to inquire and reflect upon their own experiences to find personal meaning within the artwork. Overall, I am fueled to create by the need to generate positivity and uplift in spite of uncertainty.


Project Description:
With this grant I want to create the following project to explore this concept: Nature vs Nurture; A multimedia portrait series that reflects on the relationship between elements of our identities we inherit and cultivate via interview, installation, photos and video.

For the series I'm looking to create 4-6 portraits of people of color using wood, fabric, gem stones, and assorted paints. Specific components aligned with each portrait include: Interview with the person being depicted in the portrait about people, places, and experiences that have impacted their identity (can be done via platforms like Instagram Live, Facebook live, or Zoom for people to tune in and comment in real time) Time-lapse/process videos of the portrait creation in my studio Complimentary photo and video documentation that is shared via social media and archived on my website.

In addition, I'd want to have a Live Q&A session with a mental health professional, like a therapist, that can provide tools and resources based on topics raised during interviews (utilizing one of the platforms mentioned above). Depending on how COVID safety protocols evolve, I would love to rent a publicly accessible space to physically showcase all of the works created as a complement to all of the digital content generated (preferably in the Roxbury or Dorchester area).