Work Samples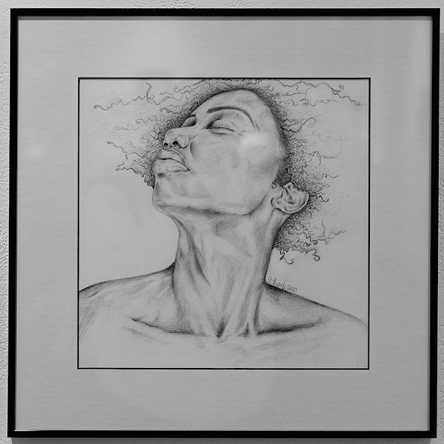 AYANA MACK
She/Her

Boston-based visual artist, graphic designer, and entrepreneur Ayana Mack has been honing her skills in the creative community for over a decade. Mack's artistic inspiration is rooted in personal experiences, Black culture, self-love, and believing in inspiring others through her artwork. Her use of vibrant colors, linework, and expressions of Black women within her work exhibit power and softness in unison. In 2020 Mack was an honoree for "Black Excellence on the Hill," celebrating her contribution to the arts in the Commonwealth. She has also been a featured artist in Boston Art Review magazine, a Creative Entrepreneur Fellow for the Arts and Business Council, and a board member for both the American Institute of Graphic Arts and the Arts and Business Council of Greater Boston.

Website: www.ayanamack.co


Artist Statement:
Listen to Ayana's statement below:


Over the years, I realized it is essential to create work when I am open and ready to release what I may be feeling. There have been moments of joy, heartbreak, pain, and confusion that show up within the work I produce. Emotions I did not express and now have learned there is power in sharing honestly. It has been less about doing work like a machine and more about the intention behind what I feel and the medium I use. I have moved away from rushing through a piece of artwork. Pacing myself, enjoying, and feeling the process has been essential, especially over the last two years.

What has motivated and inspired the work I produce and share are my community and my personal experiences as a Black woman. My process has shifted into being more intentional, vulnerable, and honest from conception to completion. Beginning with how I feel when I create, the reference photos I use, and even the day or night I decide to work on a piece.

I am a native Bostonian and have lived in Mattapan for most of my life. I have volunteered and worked with organizations, small businesses, large institutions, politicians, and community groups within Dorchester, Roxbury, Mattapan, and beyond. My experiences led me to the need in each of these neighborhoods. The condition I've noticed is people of color deserve access to creative resources, beautiful public art (that represents their culture), workshops, and space to release - in their community.

I believe in the power of art. It is a tool we can tap into and use to release what we are feeling and express ourselves without words. I have grown to practice it in this way. It has deepened my connections with friends, family, my community, and others. I've noticed the questions I have asked when sharing work has allowed people to share intimate parts of themselves without holding back. One of the questions at my gallery show in October 2021, "Forgiveness is a Place: Welcome," was "How have you learned to love and forgive yourself?" which sparked emotions and conversations that people typically dismiss.

The reaction to my show from the public, my community, friends, and family showed me that we need more spaces to talk about vulnerable things. Like forgiveness, self-love, healing, relationships, and wellness. The show and my community have shifted the way I think about what I create. Now I am beginning to ask myself: "What else can I offer my community and the people around me through the art I create and the messages I am sharing?"




Project Description:

Listen to Ayana Mack's project description below:


If awarded this grant I would offer free arts and wellness programming across four neighborhoods in Boston. Mattapan, Dorchester, Roxbury, and Jamaica Plain. I would have a wellness component (the option of yoga or creative writing) and a discussion of my artwork, which will be on display. Each workshop will be two hours in a free and accessible location or space. A max of 10 attendees will walk away with a small art supply kit, including a sketchbook or journal, colored pencils, and a pencil sharpener. So they can continue the work and then share their journey with others.

The space for the workshop will be accessible, comfortable, and be able to hold this type of programming with multiple components. Community rooms, public libraries, coworking spaces, or well-known neighborhood businesses are options. There would also be water and snacks for the attendees.

The programming and concept would be an extension of my art show "Forgiveness is a Place: Welcome." The core concepts of my show are notions of vulnerability, healing, and honesty. Attendees enjoyed showing up to the gallery where they had permission to be themselves. I shared my journey in visual chapters.

The vulnerability began with Preface: a visual expression of a past breakup and the emotions that come with it, like fear, confusion, and frustration. The healing chapters, number 1 and 2, lean more into transformation, finding myself, and releasing any emotions in the way of my joy and confidence. The honesty chapter was number 3; unlike the other concepts, I visually shifted into different mediums and brighter colors centered around gratitude, spirituality, and freedom. My artwork sparked empathetic conversations that emphasized the need to share stories in a safe space to kick off the healing process.

The response from my show made me wonder, "If my art can impact individuals, what can a workshop do for my community."

As we walk through the workshop, I will give a short talk about the work, asking questions and getting the conversation started around forgiveness, vulnerability, and healing, which would lead us into a wellness activity. Each attendee would have a journal to write down whatever comes up. The wellness activity would alternate between yoga and creative writing.

The creative writing instructor would be Nakia Hill. A writer, journalist, and educator. Nakia specializes in empowering women and girls to use writing as a tool for healing, radical self-care, and resistance. I would also like to hire a yoga instructor who has worked within each community and can speak to the power of healing and movement.

My artwork is centered around Black women, but this workshop is open to anyone who would like to attend. I am going to push for a diverse group of attendees. We all have a story, have dealt with healing, and can use more wellness. There is so much power when the space is full of different people. The beautiful thing about art is it can speak to anyone, no matter what the subject is.

The workshops will allow attendees to learn more about my artwork, process, and healing journey while incorporating key concepts about visual art. The wellness component will shift the conversation, move through yoga, or get our minds going with a creative writing exercise. It will give community members a judgment-free, safe and open space to talk more about healing and vulnerability. It has changed my life, and I believe it is necessary to share this and creatively educate others.

The beautiful thing about healing, forgiveness, and vulnerability is it can apply to anyone. I don't believe we have enough access to FREE creative programming in BIPOC communities. We struggle to find therapists of color who understand us, our culture, and our needs. Healing and forgiveness are not usually the first things we discuss. It is something we need to talk about more often, so we become comfortable with the idea of leaning into each other and hopefully getting to a point where we can think about healing as a collective and community.

With the current state of the world, we need more events like this. Our communities and people of color are last on the list with everything. We are holding up institutions and doing most of the hard labor during a global pandemic and before the pandemic. We are so far behind in our healing. We deserve a space to release and be cared for, so we can let go of the emotional barriers holding us back, even in a two-hour workshop.

There is no limitation on who can attend this workshop or age limit on healing and wellness. Our youth, families, and individuals are welcome into this space, focusing on people of color.

My awareness of the various cultures in each neighborhood, event location, accessibility, and care will resonate. I've noticed that some events can be well thought out, but they may not be shared where community members can access the information, or it is not accessible by the T and parking is an afterthought. All of these things matter.

The approach I am taking with planning and instructing is open, welcoming, and not forceful. Just showing up is giving a lot. It's a step towards healing. I am hopeful my approach will be apparent throughout the event marketing, promotion, and conversations around this project. I believe the ease, genuine care for my community, the arts, and wellness will resonate with attendees, resulting in collective healing.